TCPA Violations Lawyers
Handling Telephone Consumer Protection Act Cases in Colorado, Florida, Illinois, New Mexico & New York & throughout the United States
The Telephone Consumer Protection Act, or TCPA, was passed in 1991 as an amendment to the Communications Act of 1934. The TCPA is meant to protect consumers' privacy by restricting the actions of telemarketers and other communications practices.
If you believe your rights under the TCPA have been violated, reach out to USA Employment Lawyers for a free case evaluation. Our TCPA violation lawyers can determine if you have a class action lawsuit. We have extensive experience in consumer law and can help you understand your rights and legal options.
For more information, contact us online or call (800) 483-0998.
What Rights Are Protected by the TCPA?
Essentially, the TCPA prohibits telemarketers and similar companies from making unsolicited phone calls or sending unsolicited text messages to cellphones or residential phone numbers in certain situations.
Some practices that are illegal under the TCPA include:
Calling a cellphone with a pre-recording or using automated dialing without prior consent
Sending an automated text message to a cellphone without prior consent
Contacting a residential phone number without an "established business relationship," defined as doing business with the owner of the residential number in the past 18 months
Calling any phone number listed on the national Do Not Call Registry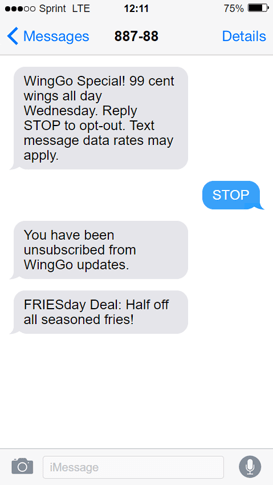 These laws are complex and, in many instances, you may not be entirely certain whether you have provided permission (including implied consent) to a business to contact you. Additionally, proving TCPA violations is no easy task. It's important that you work with a skilled and experienced TCPA violations attorney.
If you have received unwelcome text messages from businesses, take a screenshot and send it to screenshots@usaemploymentlawyers.com.
Were You Called in Violation of the Do Not Call Registry?
The National Do Not Call Registry is a database maintained by the Federal Trade Commission that protects consumers from receiving unwanted telemarketing calls when they elect to register. After registration, which only requires the phone number you wish to list and an email to confirm your registration, all unwanted telemarketing calls should stop after 31 days.
Our firm represents clients who have received repeated violations of the Do Not Call Registry by the same offender. If you receive telemarketing calls in violation of the National Do Not Call Registry, reach out to USA Employment Lawyers today to learn more about how we can help you hold responsible parties accountable.
Working to Ensure Your Consumer Rights Are Protected
Most TCPA-related cases are handled as class actions. Our TCPA violations attorneys can help you understand the various legal avenues available to you and determine the best course of action. We provide personalized and innovative legal solutions to our clients and are proud to represent consumers in Colorado, Florida, Illinois, New Mexico & New York & throughout the United States.
To get started with a complimentary case evaluation, call us at (800) 483-0998.
Passionately Serving Our Clients